Ferries
The best rates with Shardana Ferias
Reserved rate
Book your ferry
We offer our customers
a discount from 10% to 20%
when you buy your ticket directly on our website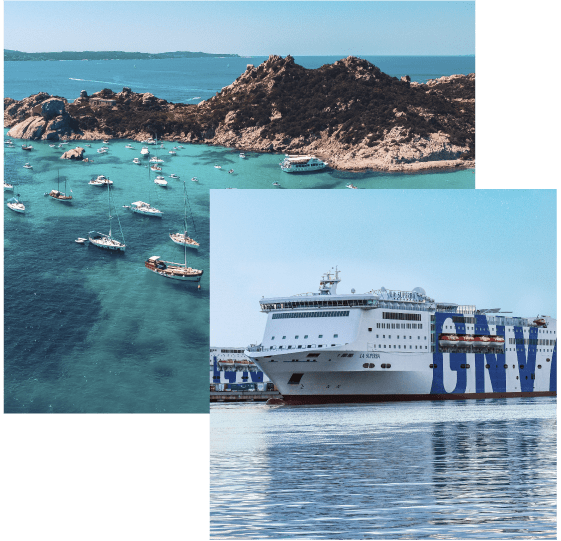 Shardana Ferias
The Best service
For your Holiday
When you book a holiday with Shardana Ferias
you will get advantageous rates for the ferry service.
Request us your quotation and information about
companies operating to and from Sardinia and
and choose your preferred fare.
We would like to remind you that the availability of ferry tickets for
to Sardinia with discounted fares has limited
availability.

Advices for travelling to Sardinia by Ferries
Arriving by ferry in Sardinia is a bit like enjoying a mini cruise. The modern ferries from the ports of Genoa, Civitavecchia and Livorno to Olbia and Porto Torres are as good as any Mediterranean cruise ship.
The crossing times vary greatly. From 3½ hours on the fast ships between Civitavecchia and Olbia to over 12 hours on the Genoa-Olbia.
Find out the crossing times and bear in mind that this is always a function of the weather and sea conditions. Adverse conditions can delay the arrival by up to 12 hours or prevent fast ships from setting sail!
Fortunately, the Tyrrhenian Sea is generally calm during the summer season. For this reason, do not exclude daytime crossings, there is nothing better than sunbathing lulled by the sea.

Things to know before leaving
You must present your ticket for boarding.

You must respect the arrival time at the port. Delays may result in loss of boarding rights, even if you have a valid ticket.

During embarkation all passengers, including children and infants, must carry a valid identity document (identity card and/or passport).

Animals must be kept on a leash and muzzled, and their health records must also be brought with them.

Passengers with reduced mobility who need assistance must reach the port in advance of the arrival time required by the selected company

Tickets purchased in the "resident" fare category will be checked at the port and in the absence of documentation proving the presence of the requirements for the fare reduction, boarding will not be guaranteed and will not be refunded.

If you have a car that runs on methane or LPG, you must present yourself at the boarding gate with an empty tank using the alternative fuel.
Office Address
Via Sardegna snc c/o Centro Commerciale Gambaru San Teodoro 07052 (SS)
Get directions
Contact us for more Information
Our multilingual staff are at your disposal for all your needs.
Fill in the form below to be contacted.